When surgery is required, Dr. Weight uses the most minimally invasive techniques and latest technologies.
Dr. Weight is known for his disc replacement specialty.
Dr. Weight is also specialized in the following surgical procedures:
Decompression Laminectomy
Discectomy
Foraminotomy
Interbody Fusion/ Spacers
Reconstructive Surgery
Dr. Mark Weight is an expertly trained and experienced specialist who has been helping patients return to a better quality of life for many years.
Augmented Reality Technology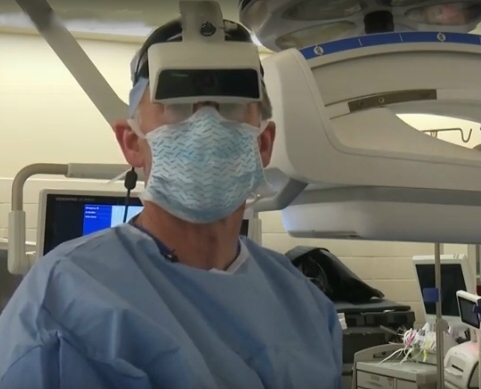 Dr. Weight is one of the first doctors in the area to use augmented reality technology for complex spinal surgeries.
Using the technologically-advanced Augmedics xvision Spine System, Dr. Weight is able to visualize a patient's spinal anatomy during surgery without looking away from a patient to a computer screen.  This precision-engineered system projects 3D high-resolution radio-graphic images into a headset that is worn by Dr. Weight during surgery.
With this groundbreaking new technology, Dr. Weight is able to keep all of his focus on the patient as the 3D images show the detailed anatomy of the patient's spine and allows Dr. Weight to overlap the 3D images with what he can actually see.
This new innovation enables Dr. Weight to perform surgeries with more precision and implement minimally invasive techniques with greater efficacy, safety and ultimately reduce patient recovery time.
Spine treatments and spine surgery by prominent spine surgeon, Dr. Mark Weight in Idaho Falls.